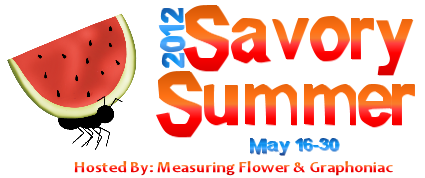 I'm just simply excited to be participating in the Savory Summer Blog Hop! Go on over to Measuring Flower and check out the details on how you can join too.

"Savory Summer will be featuring all things food and food-related that can be enjoyed during the summer. Basically, if it is something that a human being can eat, eat with, eat off of, cook, cook with, prepare food with…it belongs in this event!"


I already have a ton of ideas for this hop! Not to mention the prize I want to giveaway! Every One loves a giveaway right?